Is there anything worse than being cold and wet on a camping trip and you can't get your stove to heat water for hot coffee or a warm meal? It happened to me recently when I hiked up to camp on a ridge, and a strong wind the next morning kept my pot from coming anywhere close to boiling despite rigging a windscreen and piling large rocks around my Optimus Vega camp stove – a setup I've reviewed very favorably in the past. As my hands got steadily colder, and my frustration rose, I wondered if the new integrated camping stove and pot systems I'd seen at REI really worked all that much better, so I decided to find out and put together a MSR Windburner Stove review.
MSR Windburner Stove System components
I compared the MSR and Jetboil integrated stove systems at REI before finally going with the MSR Windburner Stove System because I've generally had good luck with their gear, and I was intrigued by the frying pan option. I've written about my struggles to find a good lightweight frying pan before, and I wanted to try it out. Please keep reading for my Windburner Duo Stove System review, along with reviews of the optional one-liter Windburner Personal Accessory Pot, the Windburner Coffee Press Kit, and the Windburner Ceramic Skillet. After a couple of trips with the gear, here's why I think integrated camping stove systems work exceptionally well.
Windburner Duo Stove System review
I chose the larger Windburner Duo Stove System over the Windburner Personal Stove System because one of the things I liked about my old Optimus Vega was the solid-as-a-rock stability that comes with a remote canister stove. I've used a few stove burners that sit right on top of the canister and – while they're significantly lighter – even with the optional clip-on legs, they're prone to tipping over.
The Duo has a clever system where the legs fold up into themselves, and the stove fits comfortably inside both the 1.8 and 1-liter pots.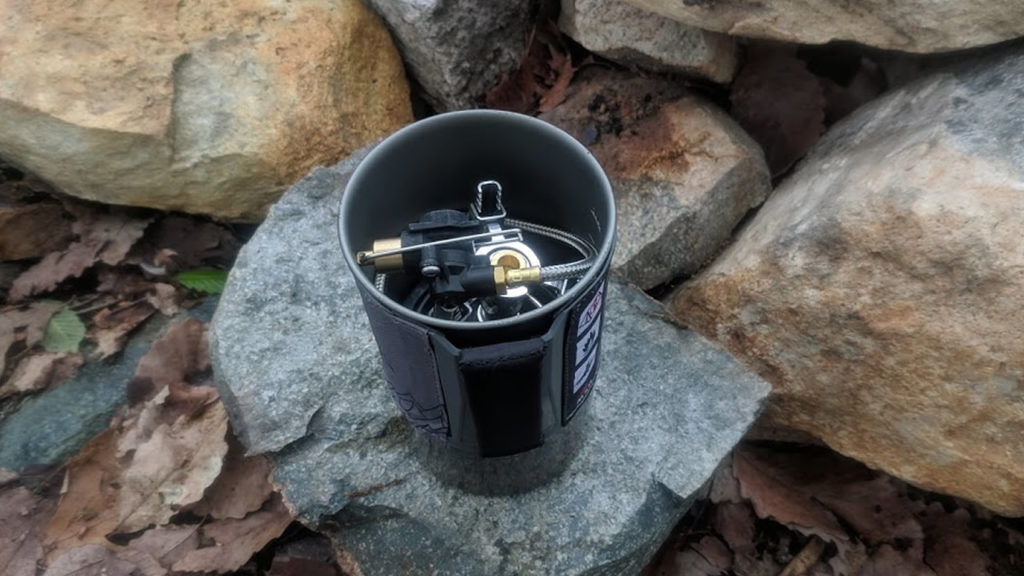 When heating, the base of the pots fit into the stove and is prevented from moving from side-to-side, which also helps greatly with stability.
Lighting and burner control
There is no built-in igniter, and when lighting, one thing I discovered right away is you cannot use a piezo lighter to start the Duo. Luckily, I had a backup flint and steel, because my piezo was useless. I suspect the mesh construction of the MSR Radiant Burner design prevents the piezo spark from getting close enough. Traditional flint and steel gives a more substantial spark. It's also hard to tell once it is lit, so MSR built in a wire across the top of the mesh that glows red to show you it's on.
The Duo stove also lacks the fine burner control that I've had with other systems, and at first, I suspected it would lead to scorched food, but it hasn't been an issue.
Windburner boiling speed and fuel consumption
I've not had this stove out in below-freezing weather yet, but I have had it out in the wind, and the speed with which it boils water in adverse conditions is nothing short of amazing.
The fins built into the bottom of the pot do an excellent job of transferring heat. On a 50-degree morning, there was steam rising from the full pot in 49 seconds, and a full roiling boil in a little under 4-and-a-half minutes. I've seen boil times all over the map in reviews of this system, but I think it's important to keep in mind that the whole point is the built-in protection from the wind means you'll always be able to boil water no matter what. Outdoors on a windy day is a lot different from somebody's test bench.
The Windburner also just sips fuel. I initially bought my system with 8-ounce canisters, but quickly realized I can go a whole weekend on a 4-ounce, and that's less to carry. Just based on boil time and fuel consumption, the MSR Windburner Stove review gets ten out of ten stars.
Windburner pot review

I purchased both the 1.8 and 1-liter Windburner pots, so I'm good to go whether it's just me or I have a friend to cook for. I like the way MSR has built a rugged ring around the heat-conducting fins on the bottom, and I have no fear of ramming these pots down in an overstuffed backpack.
I'm not sold on the plastic sleeves that go around the pots that include the handle. They work well out of the box, and I appreciate the thermal effect to keep the contents warm, but I have my doubts about how long they'll hold up.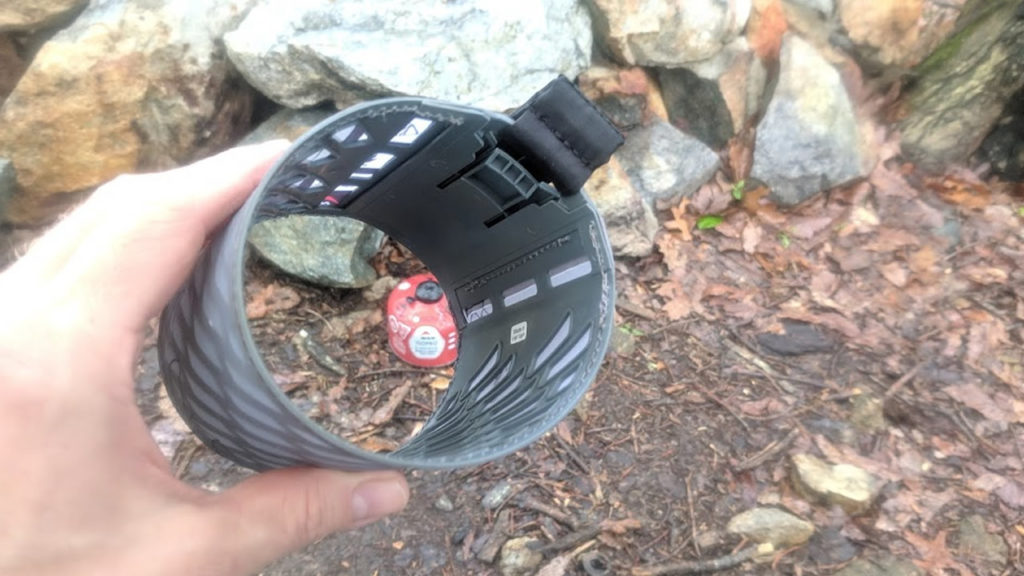 The sleeves are finicky to get on and off because of the way the clip that holds them in place works, and I've already had issues keeping the sleeve clipped and not slipping off on my 1-liter model – possibly because the sleeve has started to stretch.
One thing to note, you can fit the Duo stove and a 4-ounce gas canister inside the 1-liter pot and still get the lid on. The bigger 1.8-liter pot will take an 8-ounce canister and the stove.
Windburner Coffee Press Kit review
I am totally sold on the optional French press kit that's available for both the 1 and 1.8-liter pots. Mine makes a far better cup of coffee than my venerable Snow Peak Titanium French press which I've had for years. The MSR system means I don't have to bring a separate coffee maker. It filters very well, and I rarely have grounds in the bottom of my cup.
When packing up, the filter snaps onto the bottom of the pot, and the stem goes inside next to the stove. It's a very compact setup.
Windburner Ceramic Skillet review
There are other alternative accessories for the Windburner system including a sauce pot and the Windburner Ceramic Skillet. I ordered this skillet online as REI didn't have one in-store when I purchased the stove, and I thought I was getting the original plain aluminum finish Windburner Skillet which MSR no longer lists on their website, and I assume they don't make anymore. I wasn't happy at first when I realized this one has a ceramic coating as I've not had not had good luck with non-stick pans in the woods. Teflon is just not durable enough for outdoor use and soon get scratched. I've no experience with ceramic coating, and I was dubious.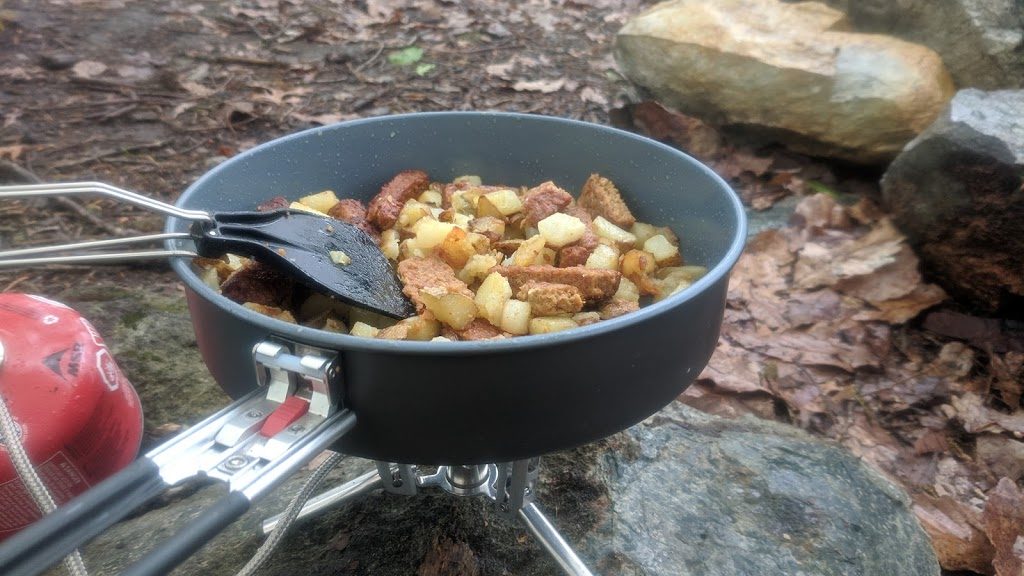 The skillet has a ring welded to the bottom of it that fits around the Windburner stove system, but it doesn't have the same fins that the boil pot has. Still, there's good heat transfer, and I suspect the ring helps prevent the thin aluminum from warping.
The skillet uses the same proprietary detachable handle that MSR has been using for years. I'm not a big fan. If you fold it over, then you're going to scratch the non-stick surface of the pan. It you detach it, the handle is an awkward L-shape that digs into anything next to it in your pack and threatens to damage fabric because the edges are sort of sharp.
How it cooks
The lack of fine flame control in the Windburner stove isn't an issue, and you can get the flame low enough that food doesn't scorch. I recommend setting the flame as low as you can before putting the pan on the stove because once it's on you can't see the flame to adjust it.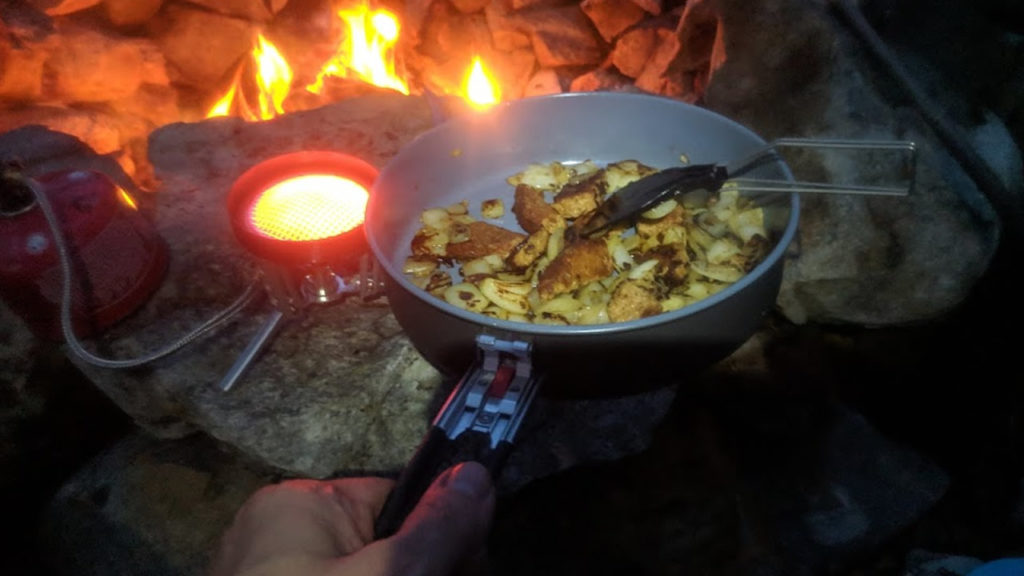 The ceramic finish is very non-stick, and you can get away with a minimum amount of oil. I'd like the pan to be a tiny bit bigger, but it has nice high sides to keep food from slipping out if you load it up.
After just a few uses, there is discoloration in the center of the pan, but the ceramic coating doesn't appear to be coming off. It's not losing its non-stick qualities. It's just turning white. More to come on that, I guess. I'll update this MSR Windburner Stove review if it becomes an issue.
Bonus: Snow Peak Folding Spatula review
It's not really part of the MSR Windburner Stove review, but an item that I picked up around the same time that I purchased the Windburner is a Snowpeak Folding Spatula. It's just a $10 item, but Amazon served it up to me when I was looking for something else, and I thought what the hell. When it arrived, my first reaction was I was sure that the handle would be too short to keep my hands away from spattering grease, and I nearly tossed it in the pile of other camping failures without even trying it out.
However, I did take it on my next camping trip, and I really like it. It folds up a little fatter than I'd like, but it's a lot sturdier than you'd expect. It's non-stick surfaces safe, and I haven't been burned by spattering grease. It even doubles as a makeshift spoon for eating right out of the pan if I'm camping alone. It's been a pleasant – and inexpensive – surprise.
MSR Windburner Stove review conclusions
Overall, the MSR Windburner Stove System is pricey and perhaps a little on the heavy side for ultra-minimalist through hikers. However, I'm very appreciative of the reliability of being able to boil water ultrafast in any weather conditions. It makes wonderful coffee, and the skillet has turned out some excellent fresh-food campsite meals so far. Given that I can carry less fuel and don't need an extra coffee pot, it's freed up some room in my pack too. I think it was money well spent.