Looking for a NEMO Hornet 2 tent review? I've had one for long enough to be an expert on its pros and cons. Overall, I think it's an okay choice if you're looking for a fairly ultralight backpacking tent without breaking the bank, but there are some things I'd change.
How much weight should I carry in my backpack?
Beware of starting any discussion with outdoorsy types about the best average backpack weight for hiking because it's an obsession with most of us, and we'll bore you to death. Backpackers often spend a vast amount of time thinking about what to put in their bags and what to leave out to get the weight as low as possible. However, if you're looking to improve your backpacking experience with a light setup, I'd say the best place to start is with the bag itself and the tent you're carrying. I love the comfort of my Osprey Atmos AG 65 pack and the rugged durability of my MSR Hubba Hubba tent. But, for longer hikes, I want to be well below 25 pounds, so I shaved a combined 5 pounds off my load with a Granite Gear Crown2 60 pack my NEMO Hornet 2 tent.
NEMO Hornet 2 tent review
The basics
So, just how light is the NEMO Hornet? On my scale, it's two pounds five ounces packed in its stuff sack. The optional footprint weighs another six ounces. The floor is 51 inches at the wide end, and that tapers to 43 at the foot. It's 39 inches at the peak inside. It's about 7 feet long inside, which is enough unless you're very tall.
Unlike a lot of tents in this weight category, the Hornet has two doors and two vestibules. That means you can open it up and attempt to get a cross breeze going in hot weather. I've always liked the flexibility of two-door design tents. Note that this tent does not have a vent at the top, so it does get hot inside in the summer months.
The rain fly is simple to put on, and clips to the two corners of the tent. The head and is pulled snug with guy lines at the bottom.
Inside, there are two pockets for small bits of gear you want to be able to reach in the dark next to the doors.
Material
The Hornet is made from thin 10D (denier) nylon fabric, and that's the main reason it's so light. If you're used to more standard weight 20D tents, you'll definitely notice the difference as it's much more supple and feathery feeling. The price you pay is it is much easier to get caught in zippers, and it's very fragile. I made the mistake of shoving my tent in its bag down in my backpack and pushed the tent poles through the bottom of the stuff sack. That meant I had to roll out my sewing machine and pathetic sewing skills to add a patch to the bottom.
2-person? Really
I have the 2-person version of this tent, but I'd challenge that description. You can see in the picture below how my full-size Therm-a-Rest NeoAir sleeping pad fits inside.
There's no way you could fit two of those without overlap. Personally, this tent is a great size for my purposes, but I couldn't imagine sharing it with someone else unless they were very pretty, and it was a very cold night.
Can leak when raining
I've had the NEMO Hornet 2 out in moderate downpours with mixed experiences, and I'm not confident of its abilities in a real storm. I think the problem comes down to the rain fly design. It doesn't completely cover the tent at the head and has a sizeable u-shaped cutout area.
This design seems to lead to two leak issues. The first is that it creates the potential for water to drip from the fly onto the netting of the tent and then down the wall inside if the tent isn't pitched well or there's wind.
The more common problem that I've had is water hits the exposed base of the inner tent and then runs underneath it getting between the tent and the ground cloth. Because the floor of the tent is made of such thin material, it leaks or soaks through under your sleeping mat and pools there.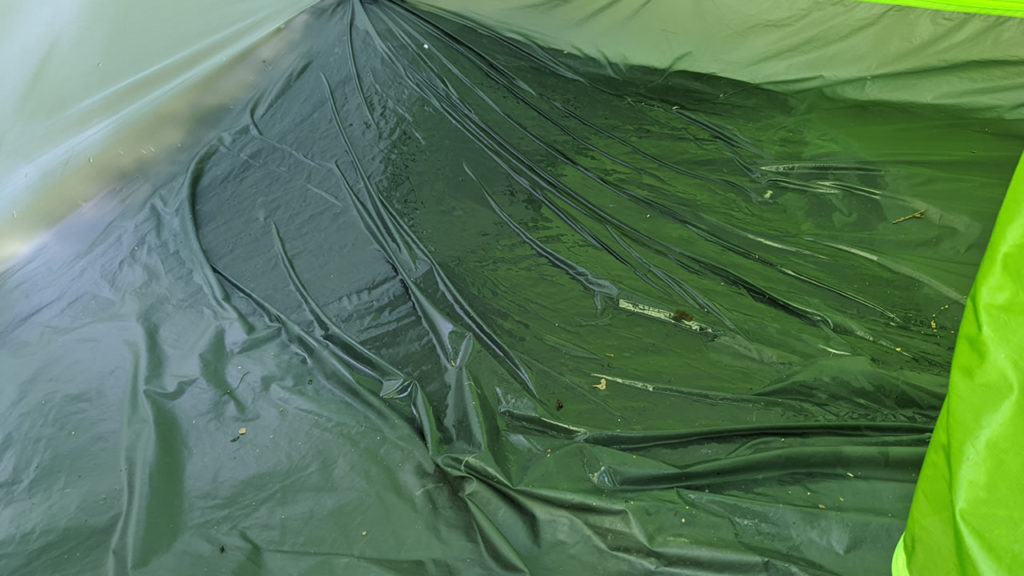 It's unfortunate because the rest of the tent seems to do quite well in wet conditions, and a couple of extra square feet of material at the head end wouldn't add much weight and would radically improve the overall leak performance of the tent in rainy conditions.
At least I've not had the annoying experience of water dripping on my head in the middle of the night, and water under your mat isn't the end of the world if it's not so much that it soaks into your bedding. Still, if there's significant rain in the forecast, I'll grab my heavier MSR Hubba Hubba tent instead.
Not genuinely freestanding
Something that's not readily apparent looking at online catalogs is this tent isn't truly freestanding. It has one center pole at the bottom end of the tent, which means you have to use the guy lines to expand it properly. That's another major thing I'd change about this tent as I occasionally camp places where it's impossible to drive stakes, and this design means I'm trying to find rocks or other things to attach the guy lines too, and that's never a perfect solution.
What I do like is the way the poles securely clip into the tent hardware at the head end with a ball joint. This is a nifty design. Once they're clipped in, the pole ends stay there, which makes the tent easier to set up than many I've used.
Headroom
I have the older version of this tent, and NEMO has since added "flybars" that clip to the frame to widen the headroom a tiny bit in the newer version. Again, because I don't see anyone actually using this tent as a 2-man, I'd have used that extra weight to improve the rain fly and spread the poles into two at the bottom to make it truly freestanding, but that's just me.
Tent stakes
My tent came with aluminum stakes that are quite large by comparison to other brands, and I quickly swapped them out for a smaller MSR model I had laying around. That also knocked off some weight. At this price point, I was surprised NEMO didn't use something else.
Ground cloth
The optional NEMO Hornet ground cloth is made from heavier 68D PU Polyester. NEMO says it's sized to fit underneath the tent without being visible, and it's much smaller than most ground cloth/tent combos I've seen. I suspect this was done to try to solve the issue of water getting between it and the tent, but it doesn't always work. My biggest irritation with it is the way it attaches to the corners of the tent at the head end. It has little C-shape bits of plastic that sort of "clip" around the webbing where the poles clip into the bottom corner of the tent.
It's all a bit unnecessarily fiddly. I'd recommend putting it together before you pitch the tent. If it weren't possible to make the ground cloth clip directly to the tent hardware, then I'd prefer they just went with the same guy ropes they use at the bottom of the tent at all four corners.
Vestibules
The Hornet's vestibules are an okay size, but not enormous. I rarely put a lot under mine, preferring to have my bag inside the tent to keep insects out of it, so that's not been an issue for me.
Conclusion
I hope you found this NEMO Hornet 2 tent review useful. Looking back over it, I have a lot of criticisms, but overall, I think—for the money—it's an okay tent for backpacking. For example, compare it to the Big Agnes Fly Creek HV 1 Carbon Tent which is very similar in design. The Big Agnes is about a pound lighter but costs hundreds more. The Hornet 2 is light enough for my needs, and it's served me well for a few years.