The only times I've ever suffered serious non-repairable damage to any of my bikes over the years is traveling with them. Once, it was because I was stupid enough to forget I had a bike on the roof before driving into a garage, but it's happened flying with them too. After investing in a couple of bike cases, I've learned a lot about the pros and cons of different products and come to the conclusion that a soft case like the Chain Reaction Cycles Pro Bike Bag is the best option.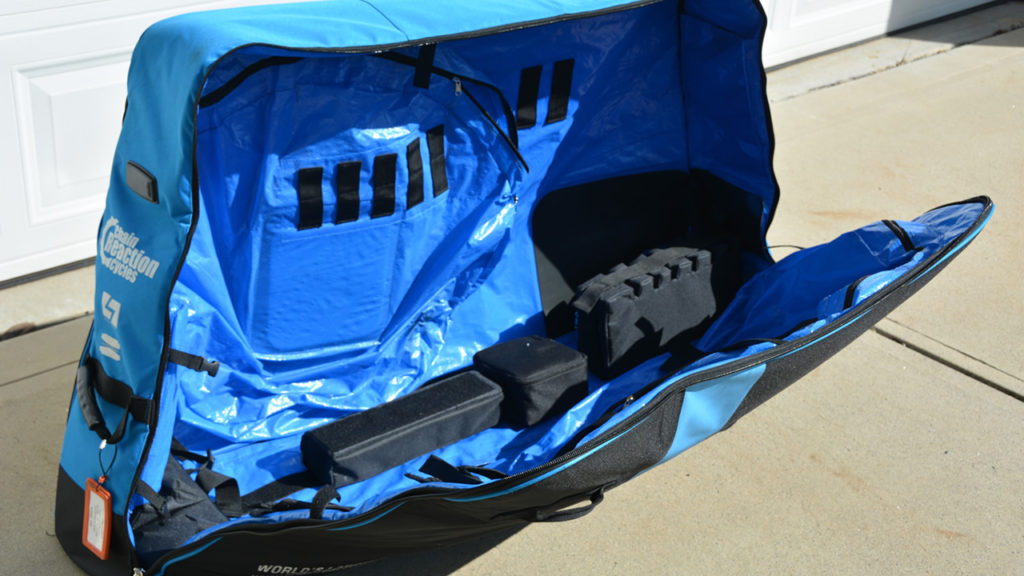 Let's face it, flying with a bike is a pain
I really should teach myself to be a runner as I'm always envious on business trips when my coworkers pop out from the hotel for a run because all they had to pack was shoes and running clothes. If you haven't flown with a bike before, I'd first suggest you really think hard about it before investing in any case at all for three reasons:
1) It's awkward – I don't care how light your bike is or how good your case is, schlepping through airports with a case and other luggage is difficult. Not impossible, just difficult. Oversize luggage often has to go to a special place to check it in, and then it comes out somewhere other than the usual baggage carousel at the other end – often long after other bags have arrived. I recently missed a connecting flight in New York returning from the UK and had to stay overnight, which meant taking the bike to a hotel and then re-checking it the next morning. Yes, it's great to have your own bike on a trip over getting on a rental, but you need to think about exactly how many times you plan to ride and weigh that against the difficulties. Is it worth it?
2) The cost – Once upon a time, you could take a bike for free on most international flights and some domestic, but it now costs an average of $100 each way unless your other luggage is all carry-on. Depending on what you're renting and what you plan to use it for, there may be cheaper/better rental options.
3) Special ground transportation may be required – Once you get to your destination with your bike case, what's your plan then? If you're getting around by rental car, then count on having to pay for a larger one – particularly in Europe where cars are typically much smaller.
Go hard or go soft?
If you've considered all of the above and still want to travel with your bike then you next need to decide how to do it. Do you get a box from your local bike shop or go with a more expensive case? Should that be a hard-shell case, bag, or roll-around soft side case?
Hard bike cases offer the best protection from the type of crush damage that only maniacal airport baggage handlers seem to know how to inflict. I once watched from a plane window as a bike bag toppled off the top of a luggage train and was promptly run over by the train coming behind it. Thankfully, it wasn't mine. There is a serious downside to hard cases though, just because they are hard. Once you get to where you're going, you have to figure out what to do with the case. Say you do get a rental car, is there room in it for both the case and the bike once you get it out and assembled? If you're only going to one destination, that's not a problem, but how about a multi-stop trip? Will the bike have to be re-packed each time?
My hard case experience
On my first adventure into bike cases, I'd recently suffered a frame ding to a road bike when I'd just used a cardboard bike box on an international trip and was in the mood for maximum protection. While hard cases are typically the more expensive option, I found a cheap case at an online retailer similar to this one from Amazon and ordered it.
The case did offer fairly bulletproof protection for my bikes, but it was inflexible and heavy. Because of its size, I had to rent SUVs to haul it, and I found it discouraged me more than ever from wanting to put up with the hassle of traveling with a bike. I used it just a couple of times, and then it sat in my spare bedroom, looking ugly and taking up space. Eventually, I realized I wasn't inclined to use it and got rid of it on Craigslist.
I switch to a Chain Reaction Cycles Pro Bike Bag
Soon after I got rid of my hard case, a chance to go to Europe and ride came up, and I once again debated whether to rent a bike there or take my own. Seeing as how I planned to ride more than three days on challenging terrain where I knew I'd be happiest on my own bike, I opted to take one and started looking at my options. After doing some research, I chose a Chain Reaction Cycles Pro Bike Bag and couldn't be happier. Here are some of my reasons:
1) Flexibility – The greatest thing about this case is while it does have a rigid bottom with wheels to make it easy to roll around, the sides can be rolled up to make it easy to cram into a car or a closet. Now, there's no more ugly large case in my spare bedroom. It takes up less space in a rental car, and I don't have to re-pack my bike on trips with multiple stops.
2) Price – Chain Reaction puts an MSRP on its website of $370, but I got mine for $220, which is well below a lot of other cases. Compare it with the price of the Evoc Bike Travel Bag, which has almost identical features, and you'll see what I mean.
3) Quality – I've been burned in the past ordering products that have been branded with the name of a retailer, but this is an extremely well-made case that has proven its hardiness on transatlantic flights and banging around in airports. It also comes with some unexpected bells and whistles that make it a winner.
What's included in a Chain Reaction Cycles Pro Bike Bag
Now for some stats about the Chain Reaction Cycles Pro Bike Bag. Fully unfolded, it measures 31 inches high, 55 inches long, and 11 inches wide – which puts it within the specs of most airlines for not being classified as oversize luggage requiring an extra fee. When you roll it up, you can get the height down to about a foot.
There are zippered sleeves on either side of the inside of the case to put your wheels. If you're running disc brakes, I'd strongly recommend you pull the discs off the wheels to keep them from getting bent. They're going to be vulnerable to side impacts and crushing if you don't. The sleeves are plenty big enough to take my 29er wheels with 2.2 tires, even when they're fully inflated.
A really nice touch about this bag is it comes with a full range of axle inserts to fit almost any setup, from standard QR to thru-axles. They're in a little pouch with each length and diameter labeled.
Inside the bag, there are what Chain Reaction calls "shock blocks" along the bottom and padding around the fork to protect the bike. There are straps and Velcro tabs to hold the frame securely in place.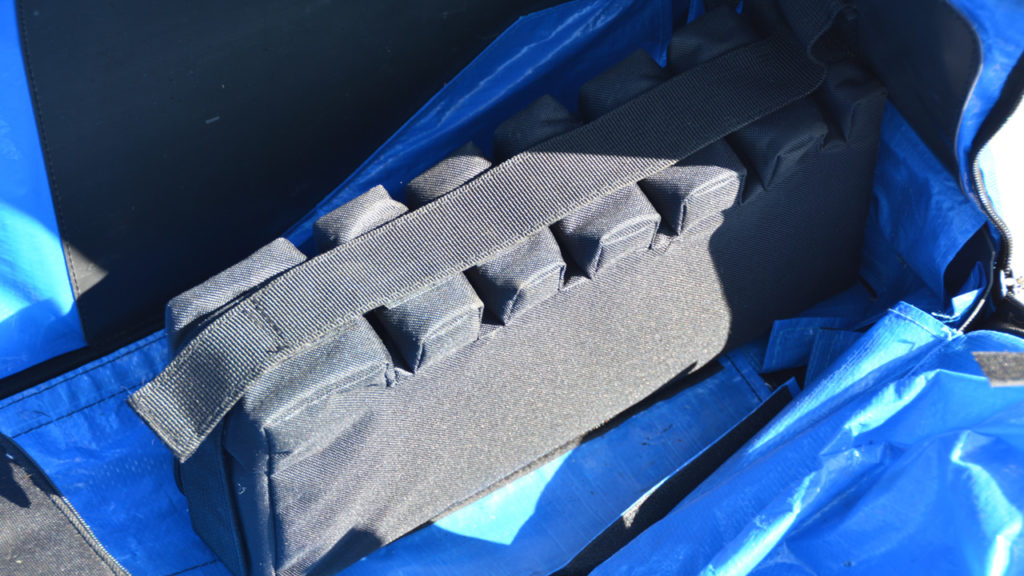 I won't go into how to pack up a bike in the case. The folks at BikeRadar have a great video that walks you through it.
Chain Reaction Cycles Pro Bike Bag Review Conclusions
I've used this case on a couple of trips now, and I quite like it. It has beefy zippers and carry handles, and it's proven to be fairly lightweight and stable when I've had to make long walks between terminals or from parking areas. I have suffered no damage to my bikes so far. The only criticism I have is the color. Chain Reaction has made the bags rolling billboards with their blue branding with white lettering, and my case is obviously quite dirty after just a couple of uses. All luggage should be a dark color, in my opinion. Still, that's a minor fault, and I don't think you can beat this case for the price.